Pretty Water School will be closed Monday, Dec. 9th due to bad weather and unsafe roads.
---
---
---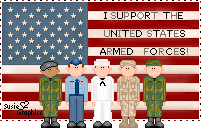 We would like to thank all of the veterans
who came to our school and allowed
us to honor them.
Mr. Taylor started the
program with
a warm welcome and
personal gratitude
to the many veterans
who attended.
Slide Show
47321_2!_!350!_!263!_!l
Our students recited poems,
sang songs,
and presented the flags.
Mrs. Gifford and the band
did a wonderful job with
their songs.
After the program, our PWS Student Council
served a wonderful lunch to the veterans
and their families.
We feel this is the most important
program that we do here at
Pretty Water School.
We are grateful to all the veterans,
and their families for the
freedoms that we have
here in our country,
The Wonderful United States of America.